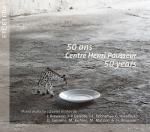 50 ans Centre Henri Pousseur
Malika Kishino: RA for Viola and Live-Electronic (2019-20)
Viola : Vincent RoyerElectronics : Centre Henri Pousseur (Gilles Doneux)
https://www.jpc.de/jpcng/classic/detail/-/art/matalon-50-ans-centre-henri-pousseur/hnum/10876409?lang=en
Label: Etcetera, DDD, 2020
Order number: 10876409
Release date: 8.4.2022
Martin Matalon: La Rueda
+Jean-Pierre Deleuze: Sonances de l'an levant
+Gaelle Hyernaux: De Tenebrer #1
+Daan Janssens: Paysage en attente
+Henri Pousseur: Ex Dei in Machinam Memoria
+Luc Brewaeys: Monument pour Jonathan Harvey "Ni fleurs no couronnes"
+Malika Kishino: RA
+Jean-Luc Fafchamps: Lettre Soufie "Ain (Maintnenant)"
Henri Pousseur and Pierre Bartholomée founded the Centre de Recherches musicales de Wallonie in 1970, which was renamed the Centre Henri Pousseur in 2010. The center is the only artistic institution in Belgium entirely dedicated to the development and performance of musique mixte (music with electronic and acoustic elements). The Center has selected eight compositions developed in the studios of the Center in Liège. This release shows recent currents of musique mixte and also recalls the musical originality of Henri Pousseur.